Wild 101 with Project Imo- Backcountry Trip Basics with a Day Hike
This is a free one-day workshop and hike for people interested in hiking a bit farther away from civilization for the first time, camping in remote areas, or just wanting to refresh the basics. Project Imo's staff will cover a few basics of safe and enjoyable travel in the wilder spaces of the world while minimizing our trace on the natural world.
Some of the topics we'll cover are:
Trip planning basics
Food planning
Gear basics
How to pack a pack

We'll be a Mashamoquet Brook State Park in Pomfret, CT from 9:30am to 4pm. Participants must bring a lunch and water, and are invited to bring supplies listed below if they would like to practice with their gear. We will be combining educational activities with a hike in the park. The hike runs approximately 4 miles across a variety of terrain. There are some steep trail portions with uneven ground.
Advance registration is required.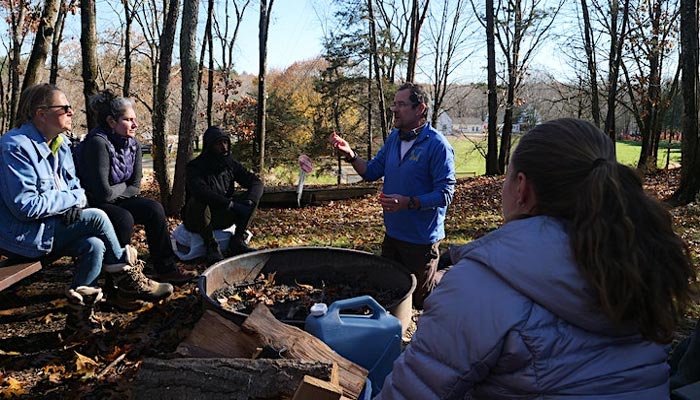 All participants are expected to bring clothing appropriate for the weather conditions during the program and close-toed footwear such as hiking boots or hiking shoes for the terrain. Participants must also bring their own snacks, water, and lunch.
While Project Imo will provide examples of gear, participants wishing to practice and discuss more immersive trail skills should bring with them optional gear suitable for 2 days of travel in a remote area such as:
2 pairs socks (not cotton)
Jacket (waterproof)
Insulation layer (fleece, etc.)
Base layers (thermals)
Winter gloves
Winter hat
Personal camp stove
2x water bottles
Personal cutlery/mess kit/mug
Personal first aid kit
Headlamp
Assorted straps and ties
Backpack

Project Imo will provide sleeping bags and pads for practice if you don't have your own. We will also provide tents for setup practice. We will also have a small assortment of gear you can use for practice but do recommend your own gear if you have it.
After registration, our staff will work with you to ensure you have the best experience at our workshop and are prepared for the day.